Natalia Roman Lopez startet dieses Jahr zum ersten Mal an der Skyrunner World Series in den Disziplinen Ultra und Extreme. Ihr Wettkampfsommer im Überblick...
Transvulcania Ultramarathon ( 74km 4350m) 26th women
Mont Blanc 80k (86k 5400m) DNF (km 78)
Beautiful views since the course traverses both sides of the valley. Not technical trails but still demanding climbs. Heat is the major challenge since the course rarely stays above 2000m
High Trail Vanoise (70k 5500m) skyrunning Ultra Series - 7th woman
This race is steep and icy!! Starts from Val d'Isere at 4 am climbing endlessly to la Grande Motte (3650m) over the glacier. Massive drop to the valley to tackle another unforgiving climb. After Col d'Iseran it climbs again in the snow to 3400m. Very steep last downhill to the finish line. This race is tough and fun with strict cut-off... Only about 40 finishers!
Vuelta al Aneto (58k 3800m) - 3rd woman
The beautiful Pyrenees! This race circles the highest mountains of the massif, Aneto. The first 20k and last 15k are fast and not technical. But the middle part is wild!! Several hours jumping from Boulder to boulder crossing several passes and valleys. Amazing views and atmosphere. 
Tromso Skyrace (58k 4800m) skyrunning Extreme series - 10th woman
Race course designed by Kilian Jornet, not much more to add. Tromso is indeed not for the heart-fainted. The climbs will test your legs and the downhills your nerves - Rockfall being a serious hazard here. Traversing the Hamperokken ridge is definitely the highlight of the course. This is Norway - be ready for some fog and rain too! 
GlenCoe (51k 4800m) - skyrunning Extreme series - 10th woman
If there is a extreme race in he skyrunning calendar, this is it! Commitment, exposure, steepness and many more superlatives. The race tackles curved ridge and Aonach Eagach ridge - among other peaks. There is some serious scrambling and unforgiving down-climbs. I felt safer in terms of rockfall hazard compared to Tromso. I also found GlenCoe downhills easier. However, overall the climbing difficulties are greater at GlenCoe - especially if the terrain is soaking wet as it was this year. A though diamond! 
---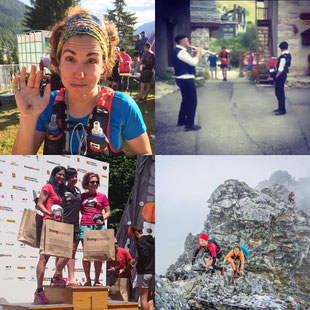 ---
Schlussendlich landete Natalia dann auf Platz 20 im World Series Ranking Ultra und auf Platz 13 der Extreme Series. Herzliche Gratulation Natalia!